24 for-purpose CEOs across two states have been announced today as participants in the third cohort of Social Impact Leadership Australia (SILA) Program, Australia's world-class course for social purpose leaders.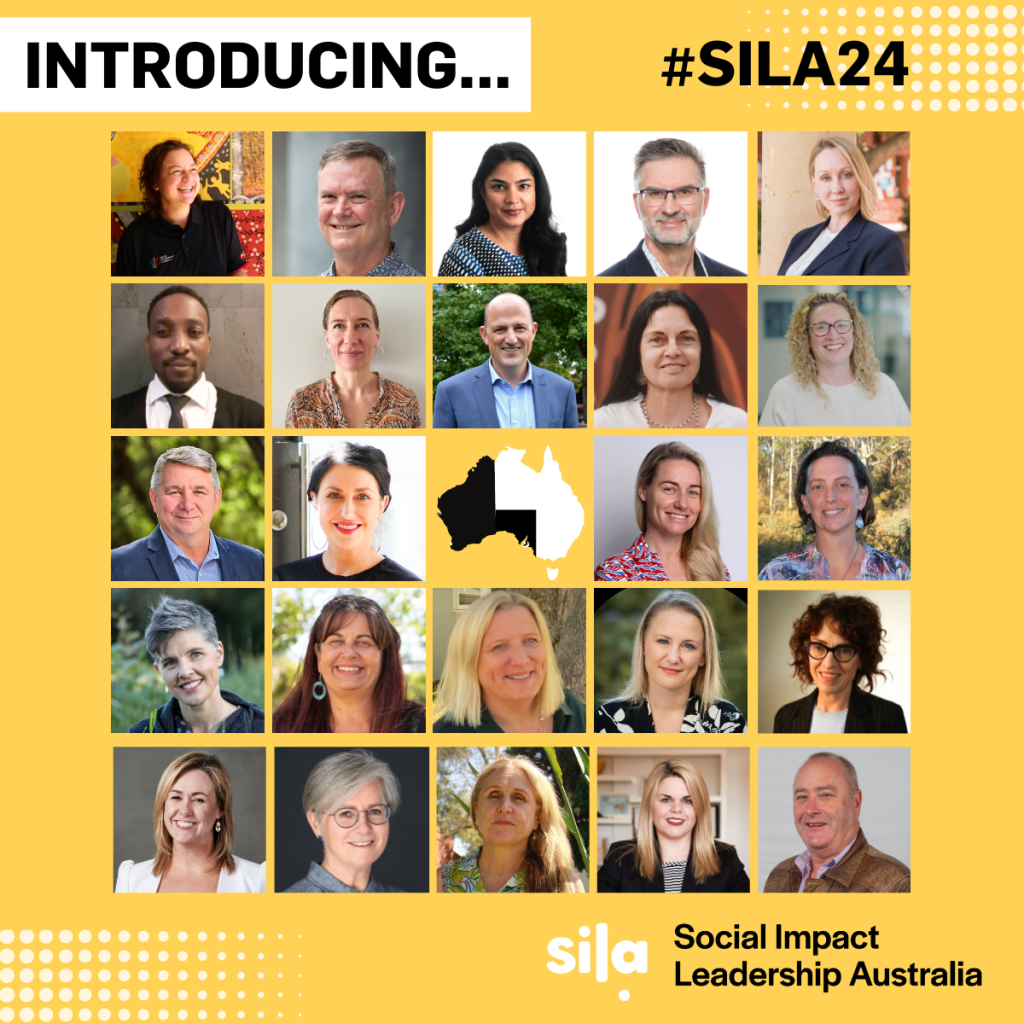 Delivered by the Centre for Social Impact and designed specifically for CEOs of Australian for-purpose organisations, the fully funded professional development program is valued at over $80,000 per delegate and gives leaders exclusive access to executive coaching, group learning retreats, and a tailored three-month sabbatical.
Now in its third year the ground-breaking 10-month course is being delivered to leaders in South Australia and Western Australia, following overwhelming success across NSW, the ACT, Victoria and Tasmania, where the course has been completed by almost 50 social purpose CEOs over two years.
Jointly funded by four of Australia's major foundations – the Myer Foundation, the Sidney Myer Fund, the Vincent Fairfax Family Foundation, and the Paul Ramsay Foundation – the $9.8 million SILA program aims to strengthen the for-purpose sector by enhancing the wellbeing and effectiveness of CEOs, advancing organisational capability, and building a network of systems leaders.
"The deep understanding these leaders have of the local context, coupled with their impressive track records as CEOs, positions them as powerful agents of change within their communities,"

Leonard Vary, CEO of The Myer Foundation and Sidney Myer Fund.
"We look forward to supporting a third cohort on their leadership journey as they tackle the unique challenges and opportunities in the Western and South Australian regions."
SILA – which offers accredited executive education to 24 for-purpose CEOs at no cost every year for five years – was established in 2020 through a collective desire to address the chronic underinvestment in professional development and leadership training in the for-purpose sector.
In an independent evaluation of SILA, the program received a world-class Net Promoter Score of 86 out of 100, with 95% of participants saying they could draw upon what they learnt in the program to make a difference in their organisations and across the sector.
"The 50 CEOs who have been through the program have already had an incredible ripple effect across their organisations, networks and sectors."

Arminé Nalbandian, CEO of Centre for Social Impact.
"As Australia's leader in social impact education, the Centre for Social Impact is proud to be delivering this flagship for-purpose executive leadership program to CEOs in SA and WA," Arminé said.
The non-profit sector plays a significant economic role in both South Australia and Western Australia, employing more than 200,000 people. Furthermore, research shows that education and training in the for-purpose sector delivers strong cost-benefits and social benefits which flow on to the community. For each dollar spent on capacity building, an average positive return of about six dollars can be attributed to the training and the resulting behaviours, decisions and flow on effects.
Professor Paul Flatau, Director of the Centre for Social Impact at The University of Western Australia, congratulated the WA CEOs selected for the program.
"These leaders represent a broad cross-section of the not-for-profit work conducted by more than 4,000 organisations in Western Australia," he said. "Taking their skills to the next level and growing the impact of their organisations will have monumental flow-on effects across the state."

Professor Paul Flatau, Director, Centre for Social Impact UWA
Professor Ian Goodwin-Smith, Director of the Centre for Social Impact at Flinders University, also commended the selected South Australian CEOs.
"The for-purpose sector is crucial to communities, working on the frontline across multiple areas of need," he said. "I'm delighted to see how the SILA Program can elevate the skills and impact of these exceptional leaders to help them address challenges facing South Australians."

Professor Goodwin-Smith, Director, Centre for Social Impact, Flinders University.
On being selected as a SILA Cohort Three participant, Andrea Creado, CEO of Ishar Multicultural Women's Health Services in WA, applauds the program for its network-based and tailored approach to leadership development.
"Having started at Ishar as a volunteer over 20 years ago, I understand the impact strong leadership has through an entire organisation. Yet the tight resource constraints felt across our business means, as leaders, we rarely get an opportunity to step away and develop those capabilities, which are unique in our sector," she said.
"SILA offers that extraordinary chance to pause and develop our voice as leaders, while establishing a strong network across the state we operate in, which undoubtedly will lead to greater impact for the communities we serve."

Andrea Creado, CEO of Ishar Multicultural Women's Health Services in WA
The SILA Program will be offered to for-purpose CEOs in Queensland and the Northern Territory in 2024, and we are exploring ways to boost First Nations participation, with many First Nations leaders citing their focus on Voice as taking precedence this year.
Congratulations to the SILA Cohort Three participants, including:
South Australia
Western Australia